Influence is defined as an "

implicit or explicit effect of one thing (or person) on another," which online can be further simplified to: "can someone's words (and/or video) make you think or do something?

" - source

It seems these days like most everyone strives to have some sort of online influence. People joke about it, but a lot of us really do care about making the top influencer lists, how many LinkedIn connections we have, our TFF ratio, and how often our content is liked, shared, +1'd, etc.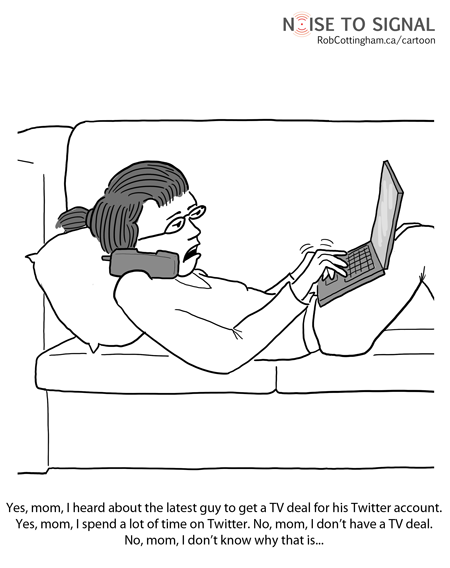 Noise to Signal Cartoon


Some jobs require a strong personal online brand. If you are an analyst, speaker or social media/marketing consultant, you have to build and maintain a strong online presence. And I feel for ya, cause it's really hard and never-ending work. Interestingly, a lot of the top

online

influencers in the HR marketplace today were top

offline

influencers back in the day -- they adapted and transitioned well. Bill Kutik is a great example.

But if you work in marketing/PR and your primary job requirement is to get the word out about your COMPANY'S brand, then do you personally need a strong online brand? What about a high Klout score? Do you need to be on the top influencer lists? Is it a prerequisite for job success?

Dan Schawbel, managing partner of Millennial Branding and prolific tweeter at @DanSchawbel, says it's essential to have both.

But I'm not so sure.

Building influence online isn't easy. It takes time. Lots of it. And although building a personal online brand and a strong online company brand share some similarities they are different strategies and require a different set of skills and tactics. And very few people can effectively do both. From CEOs to individual contributors, most highly successful people I know (and by "success" I mean they are damn good at their job and produce measurable results tied to company revenue) don't have a particularly high personal online "brand."

Ironically, if you start by focusing on building your company's online brand, you're in fact laying the groundwork for eventually establishing your own personal brand. But nevertheless, they are different. Understanding the difference is key.

Micah Baldwin, VP and Lead Evangelist for Lijit Networks, wrote a great article on personal influence and branding back in 2009 and it's still a great read. Check it out.

But let's talk about building your company's online brand/influence.

You'll want to consider a strategy for online advertising -- both search engine advertising (e.g, Adwords) and display advertising. And yes, you'll want to consider direct email marketing and webinars.

But regardless of whether or not you choose these, you absolutely need the following: a company blog, Twitter channel, LinkedIn page, Facebook page, Youtube Channel, iTunes Podcast channel, and more.

You then have an obligation to fund those sites with content. And you need a process for not only providing ongoing, timely content but for providing compelling content that engages your audience and positions your company as a thought leader or valued resource. You also need a process for distributing and managing that content throughout your social media properties.

But that's still not enough.

You also need to participate in online "conversations." This means sharing other people's content, commenting on other people's blogs/content, participating in LinkedIn Group discussions (and creating some of your own Groups). It also requires a different approach to "traditional" media relations. Sending a news release through your favorite wire service and mass-mailing your news release to the usual media distribution list isn't enough anymore. The lines have blurred between analysts, journalists, and "social voices" -- people who aren't journalists or analysts per se, but nevertheless have strong online thought leadership and can be vital to sharing your news/content. This requires you to build on-the-fly news distribution lists on a regular basis -- because the week after you build such a list it's out of date.

For example, let's say you have some news or content to share about employee engagement. You write a blog post on the subject, you Tweet about it, share it with your LinkedIn and Facebook networks, maybe do a webcast, direct email campaign or even a podcast. But how many of you are still blasting your news releases over your favorite wire service and sending your news releases as a bulk email to the same list of journalists?

The former is important (but not enough). The latter doesn't really work anymore.

You want to know who the "people" are that have been talking about employee engagement online -- say, within the last month or so -- people who have tweeted about the topic, wrote blog posts, shared related stories on their LinkedIn or Facebook sites, journalists who've written articles and analysts who've covered the subject.

How do you do this? Allow me to plug HRmarketer's new SocialEars media analytics software. It gives you this list.

Once you have the list, you can determine if they are worth engaging and if so, in what format. Do you send an email to them with a link to your content and why they should care? Do you comment on their blog post/article? Do you share their content on your own social channels? All the above?

Hey, who said media relations was easy?

It aint.

But HRmarketer is sponsoring a webinar on this subject tomorrow: Thursday, December 8th at 10am PST. Sign-up today

.



This interactive webinar is about understanding today's media relations and social PR and features Lance Haun, contributing editor of ERE and TLNT.com, and Elrond Lawrence, HRmarketer's vice president of media relations. They'll discuss how media relations has evolved in the age of social media, how to target the right journalists, and how to get your news noticed.

Other topics will include:

- Writing a good introduction for your press release
- The importance of personalizing your news or story pitch
- What makes for a newsworthy topic
- What not to send a journalist

We hope to see you there.



Labels: influence, marketing and PR, online visibility, SocialEars